AMBULANCE SERVICE IN DHAKA
When a situation is life threatening, when moving a person to a hospital is an emergency, we call for an ambulance. Ambulances are very common for the transportation of the ill and severely injured. Ambulance is a service that saves lives, while doctors treat you; ambulances make sure that the patients reach their doctors, specialist hospitals or an emergency ward, in time.
EMERGENCY AMBULANCE SERVICE IN BANGLADESH
An emergency ambulance service in Dhaka is a commitment that we make to our patients. We provide a 24 hours ambulance service all over Bangladesh, we will be able to provide our service from any location you need. We will be at your door within 30 minutes. We are only one call away.
We can provide ICU ambulances, NICU ambulances, A/C or Non A/C ambulances, Freezer ambulances, ALS (Advanced Life Support) ambulances, and we also provide Air ambulances. We will be there for whichever ambulance service you need.
We help by offering a wide range of convenient Ambulance Service for you and your family. These can help you save time, money and make it easier to deal with life's most unexpected events.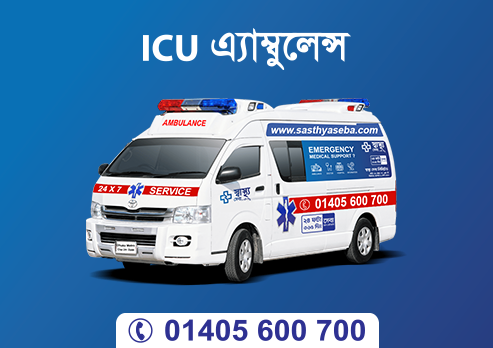 If a patient is in a critical condition, or any sort of unstable condition which requires constant monitoring, we have our ICU ambulance service for you. Our patients will have everything required, all the advanced or basic equipment to keep our patients in a stable condition till we reach the hospital.
In unfortunate events, if the patient is suffering from extreme conditions, like, cardiac arrest, severe asthma attacks, stroke, accidents that caused severe injuries, such as, head injury, severe bleeding, or even if a patient is severely burnt, you will have us by your side with our intensive care and close monitoring. 
NICU is for new born babies, as the name states, Newborn intensive care unit. New born babies need constant care and they sometimes go through severe illness which may be risky for them, our NICU ambulances are at your service in such circumstances. We will make sure that your baby's condition does not deteriorate, 
we will provide all the facilities and equipment needed till we reach the expertise or specialist hospitals for the intensive care that is needed. The NICU ambulances are well-equipped with neonatal incubator care units, ICU monitoring facilities, incubation, constant oxygen administration, IV treatment, and we take all the other necessary precautions to ensure the vehicle is clean and infection-free for your child.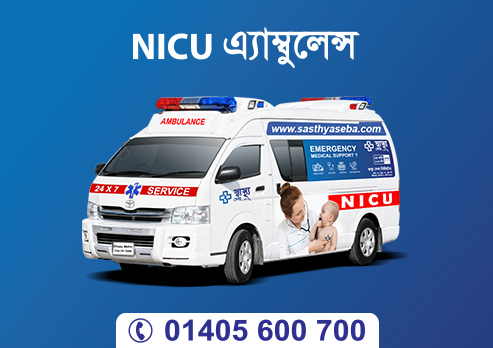 The main purpose of an ambulance is to make sure that the patient reaches the hospital in time and safely. We have our non A/C and A/C ambulances for you, whichever you need. Our air conditioned ambulances will have nurses, an auxiliary breathing system like an oxygen setup, for the patient. 
These ambulances are for the patients who are not in need of immediate medical attention, intensive care, or who are not infected with infectious diseases. Our non air conditioned ambulances will have the same facilities as the air conditioned ambulances have, but it will have an Oxygen tank and an oxygen mask instead of an auxiliary breathing system. 
The A/C ambulances are also for the patients who are not in need of immediate medical attention or are in non-life-threatening medical conditions.
Freezer VAN / FREEZING Ambulance
When we lose our loved ones, it is often very difficult to handle the entire situation, like how to move them from one place to another and the responsibility. In such overwhelming situations we will be just one call away with professional help, wherever you need us to be in Bangladesh with our service. 
These ambulances are also known as mortuary ambulances or freezing ambulances, they are equipped with ice boxes to keep the body of the person who died preserved for as long as you need.
We also have ALS ambulances, Advanced Life Support ambulances. Patients with extreme danger to their life, who need immediate medical attention, are critically ill, and can not wait to reach the hospital, need ALS ambulances service. These ambulances are equipped with everything necessary to put the patient in life support. 
You will have highly skilled and experienced doctors or crew on board with the patient, they will be trained on how to treat patients in such conditions, we have advanced equipments, paramedics required to stabilize, treat and transport the patients to a hospital emergency department, such as, Catheterization laboratory (Cath lab), trauma center, or for an interfacility transfer. 
We will be providing everything necessary to make sure that the patient's health does not deteriorate.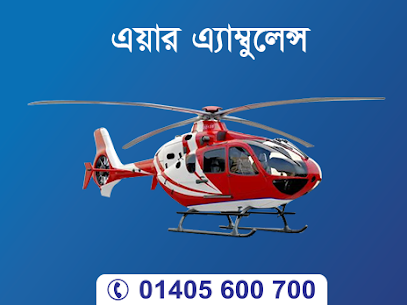 Air ambulance is a service that transports patients from one region to another or from one country to another urgently. Patients with critical conditions, who are not getting the necessary treatment or sufficient treatment for their condition in their country, may need a long distance transportation to a different country. 
We have air ambulances for such cases, our patients will not have to wait for any sorts of airport customs, everything will be taken care of. The equipment onboard will vary with the patient's case or their need, such as life support. There will be specialized, highly qualified and experienced doctors or crew onboard for the patient as well. 
These air ambulances can vary with the patient's needs, we have air ambulances from helicopters to larger cargo carriers. The patients who need to travel beyond the range of the helicopters will need a larger aircraft. Any sort of air ambulance you need, we will be at your service, only one call away  See More
You want what's best for your health! Then it can be when you come to the hospital, or the hospital services comes to you!! We provide you the best home services (e.g. Doctor or physiotherapist at home, nurse service, blood sample collection, covid sample collection, portable oxygen service and portable diagnostic service) from the comfort of your home. 
The care provided to the patient at the hospital is now can be efficiently provided at home, this is called a Home Service. Patients during recovery who have gone through trauma require specialized care at their home. See More
RELIABLE AMBULANCE SERVICE IN BANGLADESH
We always need a reliable medical platform in such distress, a platform we can rely on for good service. Our Emergency ambulance service will not fail you, we are always only one step away, all you need to do is make a call and our emergency ambulance will be there within 30 mins, wherever you need us to be. Because your well being is our concern.